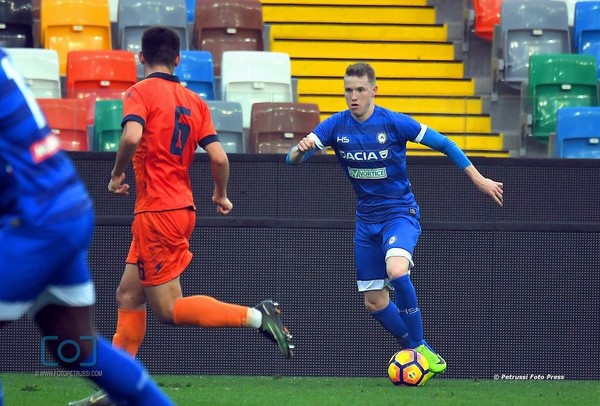 SCORERS: Thereau (pen.) at 25'pt, Gajsek at 36'pt, De Paul at 38'pt, Jankto at 14' and 43' st, Maslic at 25' st, Zapata at 29' and 45' st

UDINESE: Scuffet, Gabriel Silva (from 34' st Vasko), Angella (from 1' st Heurtaux), Danilo (from 1' st Samir), Ali Adnan (from 1' st Widmer), Kums (from 1' st Badu), Hallfredsson (from 1' st Balic), Fofana (from 1' st Jankto), Thereau (from 1' st Ewandro), De Paul (from 1' st Matos), Perica (from 1' st Zapata). Available: Perisan, Varesanovic, Melissano. All. Delneri

NK ANKARAN: Paal (from 1' st Buzan), Mate (from 21' st Maslic), Gliha, Pahor, Badzim (from 30' st Plesic), Obrstar (from 1' st Lukanc), Angov, Gajsek (from 15' st Solaja), Stromajer (from 15' st Mihailovic), Vodeb (from 21' st Park), Jurina (from 33' st Rastovac). Available: Komljenovic. All. Badzim
Referee: Djurdjevic from Trieste. Assistant: Nigri and De Marinis
Udinese managed to overcome the slovenian team Nk Ankaran with a great result: 6-2 with goals from from Thereau and De Paul and doubles from Jankto and Zapata.
The slovenians started the match aggressively but Udinese manages to get the upper hand with a penalty from Thereau in the first 15' minutes of the game. The slovenians mangaged to get even with a good action on the left flank from Gajsek. However Nk Ankarank didn't have the time to celebrate as De Paul gave the advantage back to Udinese, finishing the first fraction of the game with a 2-1-
In the seond half the coaches makes the first changes among the players. From then the goals will be made by the new players. Jankto starts with a straight goal on the opponent team, header from Alexander Maslic before Zapata's goal (a good dummy and shot on the near post) earning forgiviness for the failed penalty a few minutes earlier. By the end of the match Udinese takes over with the fans rejoicing for tow new goals, once again from Jankto and Zapata who, with their doubles, sign the end result of 6-2 for Udinese.