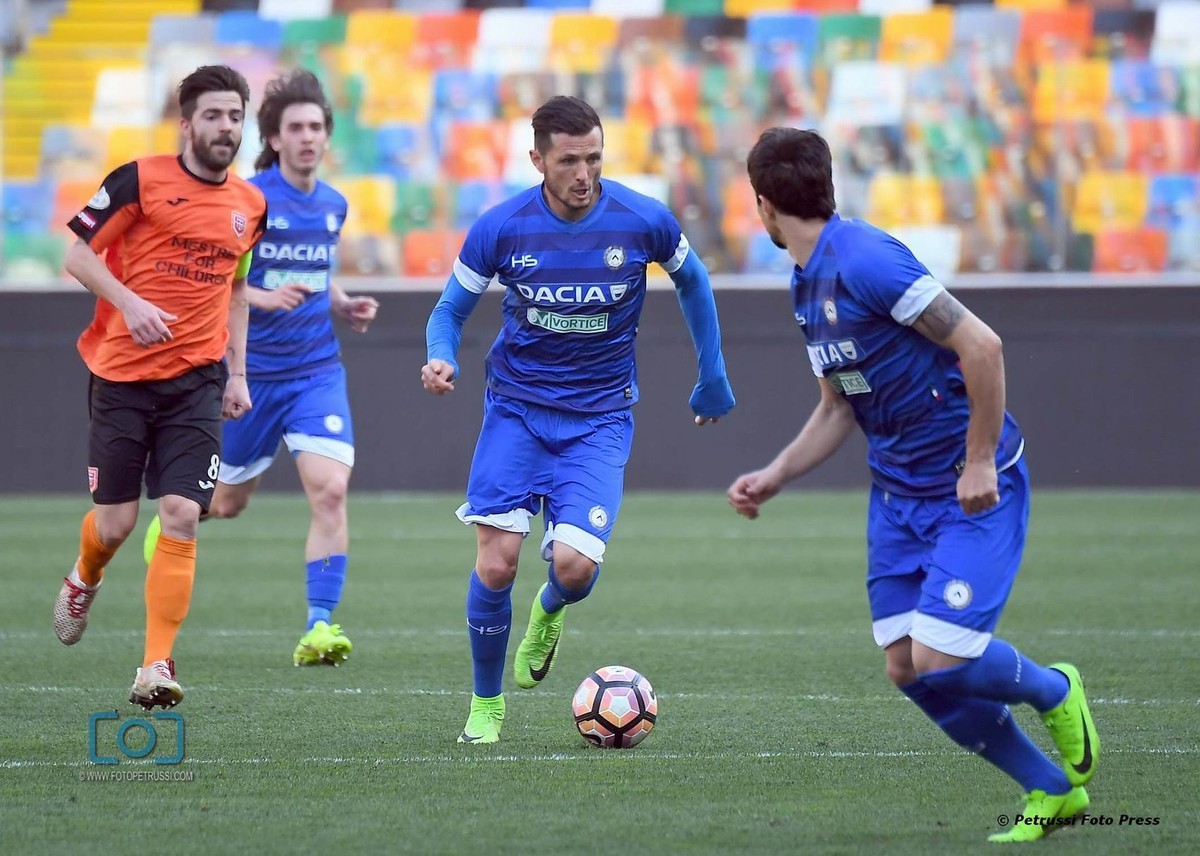 SCORERS: Matos at 8' pt, Zapata at 19 pt, Casarotto at 46' pt, Thereau at 9' st, De Paul (rig.) at 40' st, Halilovic at 43' st, Kabine at 45' st

UDINESE: Scuffet (from 1' st Perisan), Widmer (from 16' st Samir), Angella (from 1' st Danilo), Heurtaux (from 25' st Parpinel), Gabriel Silva, Kums (from 1' st Hallfredsson), Balic (from 20' st Ewandro), Badu (from 1' st Jankto), Matos (from 25' st Halilovic), Ewandro (from 1' st De Paul), Zapata (from 1' st Thereau). Available: Scordino, Pieve. Coach. Delneri

AC MESTRE First Half: Gagno (from 30' pt Rossetto), Bonetto, Veronese, Pinton, Ugo (from 30' pt Dell'Andrea), Gritti, Casarotto, Pettarin, Sottovia, Fabbri, Bussi. All. Zironelli

AC MESTRE Second Half: Rossetto (from 16' st Pusca), Bartoccini, Presello, Politti, Dell'Andrea (from 32' st Montemezzo), Pettarin (from 16' st Tasca), Zecchin, Beccaro, Bonaldi, Bussi (from 16' st Russo), Kabine. Coach. Zironelli

REFEREE: Lorenzin di Castelfranco Veneto
ASSISTANTS: Michieli e Sartori
At Dacia Arena the usual weekly friendly match, this time against AC Mestre, first team in the C round of D league.
Udinese starts well and immediately takes over the match with a descent to the right of Matos which crosses a precise diagonal shot behind Gagno. The double is from Duvan Zapata, who's ara was free thanks to his companions and is punctual in entering with right fielder. The AC Mestre tries to react and just after the half hour Udinese gets the first net with Bussi, but in the game with timely reporting dell'offside by assistant Sartori. The venetians shorten precisely when the timer runs out with Casarotto that leaves no way out to Scuffet .

In the usual swirl of change shooting is one of the newcomers, Cyril Thereau, to exploit a mistake of the rear guest for the third Friulian network. Amazing Perisan at 10'on a perfect shot into the top corner to direct Beccaro, foiled by the young goalkeeper of Udinese school. The french also goes slalom at 5 'from the end and gets a penalty that gives way to Rodrigo De Paul who takes the "bianconero" poker. Joy for Halilovic: the young player crosses a nice diagonal and rejoice for the satisfaction with the greats. Even in the second half, just a minute from the final whistle, there are cheers for guests with Kabine stamping the final 5-2. It's the last ring of the match: Delneri and his boys take aim the on Palermo in the sunday match at 18:00 at the Dacia Arena.