AN EXCEPTIONAL VENUE FOR ANY CORPORATE EVENT
Located in one of the most modern stadiums in Europe, the Dacia Arena Meeting Centre is the perfect venue to host your management, partners, colleagues, distributors or clients and to showcase your organisation's vision, plans and objectives.
MAKE YOUR TEAM A SUCCESS
After a warm welcome, the Club House Auditorium offers the ideal setting for any presentation. The terraced auditorium enables all attendees to follow proceedings easily, while the latest technology ensures that all communication requirements can be met.
UDINESE'S EXPERIENCE AND CONTACTS AT YOUR DISPOSAL
Whether you require a performance, a surprise or a special guest appearance, we're ready to support you by drawing on our network of contacts, providing advice and offering efficient, competitive services. It could be a high-profile speaker or a motivational coaching session – whatever it is, we've got you covered!
JOIN A POPULAR CLUB
The Dacia Arena Meeting Centre has already been used by many leading regional, national and international organisations. They've all been able to appreciate the versatility of our facility and the professionalism and diligence of the Udinese support team.
BESPOKE CORPORATE EVENTS TO SUIT YOUR NEEDS
A press conference to launch a product, a corporate announcement, a sales conference or a senior management meeting. These crucial events are perfect for our comfortable press room, while the Club House restaurant and services make this the ideal setting to ensure maximum engagement from your attendees.
CATERING THAT WILL WOW YOUR GUESTS
We can organise a catering service for your event in our President restaurant, which is used by the first-team players and club management during the week. This classy, elegant space is not open to the general public and will offer you a taste of the finest service, the best ingredients and our chefs' most delicious dishes.
Will discover the high level of the service, the absolute quality of the ingredients and the pleasant lightness of the receipts proposed by our chefs.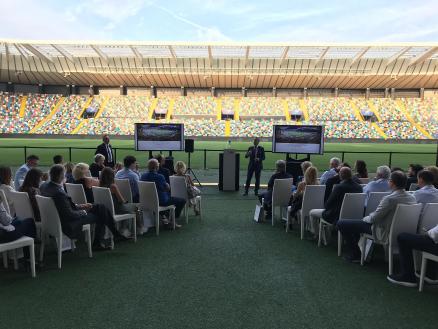 EXPECT THE UNEXPECTED
Aperitifs with DJ sets, a tour of the dressing rooms and the stadium's other lesser-seen areas, on-pitch presentations for your top salespeople… Every business event hosted at the Dacia Arena Meeting Centre promises to be an unforgettable moment for every guest – one that will come rushing back any time you mention Udinese or the stunning Dacia Arena.