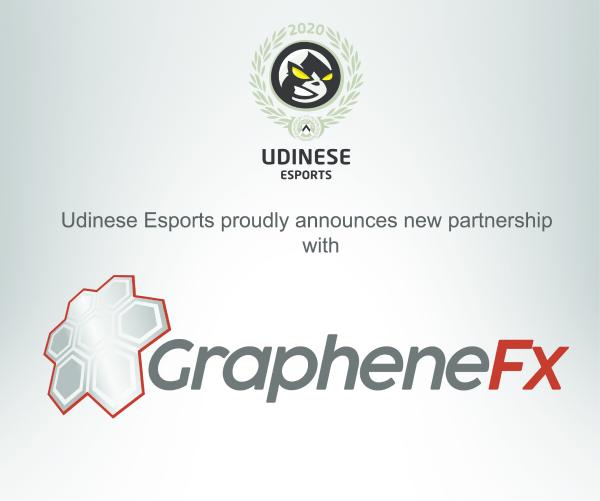 Udine, 13 April 2021
PRESS RELEASE: UDINESE ESPORTS & GRAPHENE FX PARTNERSHIP ANNOUNCEMENT
Udinese eSports
and
GrapheneFX
are delighted to announce their new partnership in the eSports world.
GrapheneFX
is a company that knows the importance of supporting many fields such as education, arts, and sports to build a future, and conducts many studies towards this goal. For this purpose, it has started a partnership with Udinese eSports, the successful, well-established eSports team of Italian Serie A football club Udinese Calcio. GrapheneFX will be Udinese eSports Official Partner in eSerieATIM, the first ever e-League in Italy.
"We decided to move into the world of eSports in February 2020," said
Udinese vice president Stefano Campoccia
. "Our approach is centred around three fundamental aims: the creation of a community of gamers, the promotion of young talents and the organisation of gaming events at the Dacia Arena. As we play in the first-ever edition of eSerieATIM, our partnership with GrapheneFX allows our project to take another step forward."
GrapheneFX CEO Hikmet Mükyen
: "We delighted to be able to promote our brand in a strategic country such as Italy thanks to this agreement with Udinese, a prestigious, historic club. We are looking forward to embarking on a great new journey together."
Brief Information About
GrapheneFX
GrapheneFX is a global company, based in South Africa, that was established by finance professionals who have been in the market for over 10 years. It has grown internally to become one of the premier brokerage firms with over $4 million in equity capital. GrapheneFX Group conducts its broker business with over 350,000 clients and 90 market destinations worldwide. Across the world, individual and institutional investors will meet a wide range of traded instruments including stocks, forex, indices, cryptocurrencies, and options.
Brief Information About
Udinese eSports
The Udinese eSports Team was set up in February 2020 with the aim of building a community of gamers, identifying new talent and organising gaming events at the Dacia Arena (Udine, Italy). The team currently features three eFootballPES2021 gamers – Edoardo Sbroggiò (imbaedo1), Yuri Bacoli (YuriBacoli10) and Loris Gambaretto (Lorisgambare77o) – and two FIFA21 gamers, Riccardo Nordio (Dastardly_27) and Renato Criscuolo (Renitubers). The team will compete in the first edition of eSerieATIM in the 2020/21 season, organised by Lega Serie A.
GrapheneFX Contact Details
info@graphenefx.com
+27 064 487 47 199

Udinese Contact Details
Jacopo Romeo
esports@udinesespa.it
jacopo.romeo@udinesespa.it
+39 328 957 4501