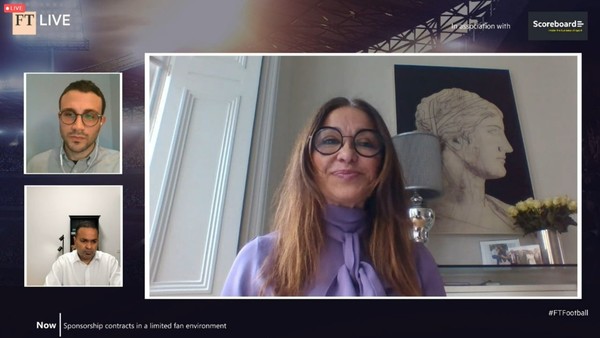 Udinese and the Dacia Arena have been in the spotlight recently as part of the 2021 edition of the Financial Times Business of Football Summit, focusing on Deal-making, adapting and innovating, in an era of disruption.
Both Udinese and its flagship stadium were held up as cutting-edge models on account of the innovative way the club has successfully relaunched national and international partnerships at this most challenging of times – underscoring the growing appeal of the Udinese brand around the world.
The 2021 edition – which took place on 17 and 18 February – served to provide a snapshot of the football industry as it grapples with the effects of the pandemic.
Udinese Calcio Strategic Marketing Director Magda Pozzo spoke at the summit during the Sponsorship contracts in a limited fans environment panel discussion, alongside Rahul Kadavakolu, Vice President - Global Sports Business & Director - Global Marketing at Rakuten. The panel was moderated by Samuel Agini, a Financial Times reporter specialising in sport business.
"At such a difficult time, our aim is to be creative by harnessing the potential of the Dacia Arena, one of the few club-owned stadiums in Italy," said Pozzo. "It's not designed purely to host football matches, but other events too. It's a hub of constant activity with something going on 365 days a year. This terrible pandemic has prompted us to redouble our efforts to achieve these goals, which all clubs should be striving for. During the pandemic, we agreed new partnerships – with Ryanair, for example – and renewed others with international companies such as Dacia, who have been our main jersey and stadium sponsor for over ten years.We need to look at untapped markets. It was easier to do that before thanks to match-day activities, which gave visibility to the brand and drove engagement, but now we need to come up with strategies that can replace those activities while maintaining a strong philosophy and mission.That's our message. We're innovative and now sponsors are confident that – when they decide to enter into a partnership with us – they're not just doing it for the sake of match-day activities, they're doing it because of what we represent and because they identify with our important club mission."


Other speakers at the Business of Football summit included FIFA Secretary-General Fatma Samoura, Premier League CEO Richard Masters, Bundesliga CEO Christian Seifert, ECA CEO Charlie Marshall, Manchester United forward Marcus Rashford, Parma president Kyle Krause and Juventus Chief Revenue Officer Giorgio Ricci.