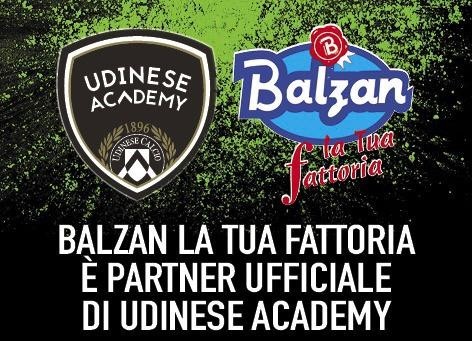 UDINE, 23 April 2021 – Udinese Calcio is pleased to announce that 'Balzan - la tua fattoria', a poultry company based in Treviso, is to partner Udinese Academy for the 2021/22 season.
Udinese Academy is a network of 53 Udinese-affiliated clubs around Italy, with one in Slovenia. The project aims to share Udinese's values and knowledge in developing talented youngsters – both on a football and a personal level. To date, over 20,000 people in 14 regions have been involved.
'Balzan - la tua fattoria' produces and sells poultry, eggs and fresh meat, as well as a range of frozen products, starters, pasta, fish, vegetables and desserts. The company's family-oriented philosophy fits perfectly with the Udinese Academy mission.
"We are delighted to announce this new partnership with 'Balzan - la tua fattoria', one I am sure both parties will benefit from," said Udinese Calcio chief executive Franco Collavino." Eating healthy food is of great importance for footballers. The 'Balzan - la tua fattoria' brand will partner Udinese Academy – a project we believe strongly in – throughout the 2021/22 season. Our aim is to help each and every footballer by fostering the highest sporting values."
"Our company is a family, much like Udinese Academy," commented 'Balzan - la tua fattoria' sales manager Andrea Balzan. "We strive to ensure the highest quality in our products and we are excited to partner with Udinese Academy, whose values we were immediately impressed by. This partnership will help us further develop our business on a national level."
The 'Balzan, la tua fattoria' name and logo will appear on all of Udinese Academy's marketing and communications activities at affiliates across Italy, as well as on social media, the website and Udinese TV (terrestrial digital channel 110 in Friuli-Venezia Giulia and Veneto, streaming on www.udinesetv.it).
'Balzan, la tua fattoria' will also appear at the intermediate and final stages of the Udinese Academy League tournament involving Udinese Academy affiliates, as well as at the Summer Camps organised across Italy.