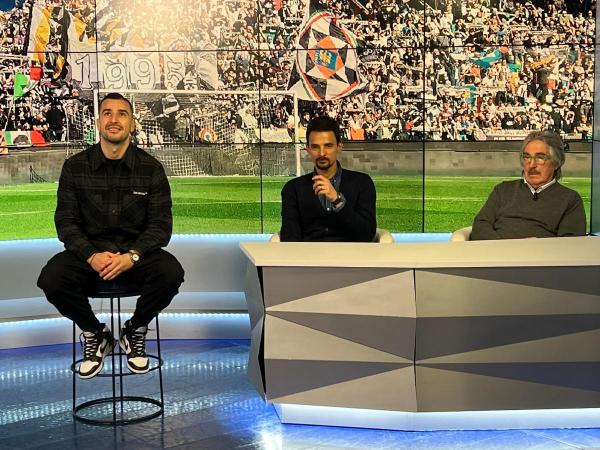 Ilija Nestorovski expects to be available for Udinese's last match before the international break, at home to AC Milan on Saturday night. The striker has struggled with adductor problems in recent weeks but says they are behind him now.
"I'm in good shape," he said on Udinese TV's regular Monday evening feature Udinese Tonight. "I'm training with the team again this week and I think I'll be available for the game against AC Milan."
Ilija went on to discuss the team's recent upturn in form and praised the performances of his fellow strikers.
"Something has clearly changed recently. [Andrea] Sottil's words touched a chord with us but I also think we've always had the right attitude and were a little unlucky in our recent games.
"The stats suggest we're getting back to sort of level we were at at the start of the season. You have to remain level-headed both when you win and when you lose. We mustn't let ourselves get distracted. There's a good atmosphere in the dressing room and we're all working hard for the next game.
"Beto scores goals. He always gives 200% in training and he takes advice on board and works on his weaknesses. He needs to improve but he can only get better.
"Isaac [Success] is happy when he's playing in his team-mates. I don't think he's finding it hard at the moment and I don't think he gets angry when he doesn't score because he doesn't a different job and he does it superbly. When a player is confident, is playing regularly and his team-mates believe in him, he'll keep getting better. Confidence is very important for a striker.
Injury problems have held Nestorovski back the last few seasons and he admits it hasn't been easy.
"I can't deny it's tough when you're not playing. I've always wanted to play a lot, at all of my clubs. I have to work hard every day and show I deserve more playing time. I think I can play for another five or six years..
He also had words of encouragement for Gerard Deulofeu, who is currently sidelined after undergoing knee surgery.
"It's a huge loss for all of us because he's a great player. I know what it's like to undergo a knee operation. I understand what he's going through and I'm supporting him. I hope he'll soon be back on the pitch."
At the end of the programme, Nestorovski answered some questions sent in by fans.
"To be honest, I think we could only really play with a three strikers if we're losing at the end of a match because the 3-5-2 formation works well.
"I'm one of the older guys in the dressing room. I like giving youngsters advice. Lots of them come from abroad and they have to get to grips with Italian football. I want to help them improve because if they improve then we improve and our club improves.
"I have a good relationship with Sottil. He's always correct and respectful with me. He's the boss and he has to make choices. Of course no one likes not playing much but we respect his decisions.
"I think the fans like me even if I don't play much. They stop me on the street and I enjoy talking to the fans. My family and I are very happy here in Udine."