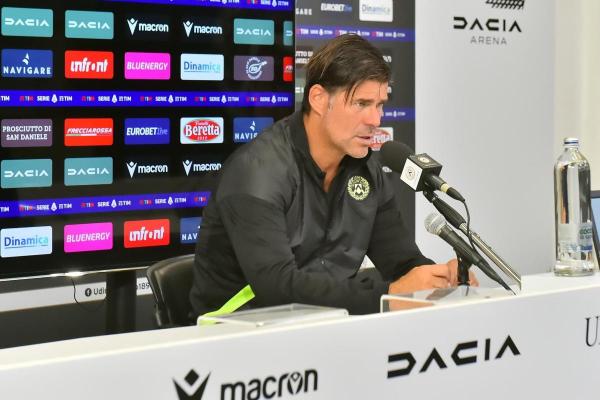 Read what Andrea Sottil had to say ahead of Udinese's visit to Empoli on Saturday.
MOOD
"There's a nice, relaxed atmosphere in the dressing room but a tremendous sense of focus too. We played really well against Atalanta and earned a big point by being organised and aggressive. This week we've worked hard aware of our strength and aware of the fact that it's up to us to determine our results through our performances. We all want to build on last week's performance against Empoli tomorrow."
PEREYRA
"There are lots of players who have played through gritted teeth despite not being in top condition and shown their commitment to the cause. One of those is [Roberto] Pereyra. He's our captain and a great leader because he has this strong sense of belonging and he gave his all trying to overcome his minor physical problems. It's important for us to have him on the pitch and he's available."
EBOSELE
"I've said before about Festy that it's not easy for a 20-year-old to come here from the Championship, where he was used to different training methods, and have to adapt to Serie A, which is very different tactically. It takes time but like all players who join Udinese, he has lots of good qualities. We knew we would have to wait for him to find his feet here and he's improved massively recently. He made his full debut at wing-back in a tough match against Atalanta and showed he was ready. He's a reliable player and he gives me more options – he could potentially play further forward in a front three, for example."
ZEEGELAAR
"[Marvin] Zeegelaar has only just arrived but he's in good physical shape because he's a serious professional and a quality player. I think he'll soon be available."
PAFUNDI
"[Roberto] Mancini is right to talk about young Italian players needing to play more and I agree with him. [Simone] Pafundi is an asset for Udinese and the future of the Italy team. He's part of a club which excels in nurturing young players and together with the owners and sports management we have carefully laid out plans for him so that he can develop technically and physically following the right steps for a 16-year-old. We want to protect his development and get him playing regularly but in the right timeframes."
EMPOLI
"Empoli will be a difficult game because they're a dynamic team with attacking players who float around and exploit the space. We know what they're like and we've got our game plan ready. We know where we need to work the ball and we know we must defend well when they have the ball. We want to build on our performance in Bergamo and produce another good display tomorrow. We're the ones who determine our results and we have the desire and determination to get a result against Empoli."