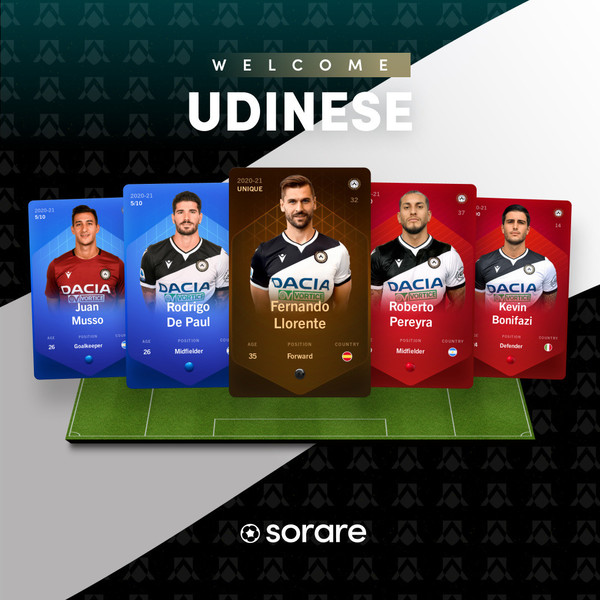 - Udinese is joining Sorare to create digital cards of players alongside world-class clubs such as Liverpool, Real Madrid and Bayern Munich
- Sorare created a marketplace to trade digital cards which provides a new revenue stream for 140+ football clubs, generating over $30,000,000 in card sales per month in March 2021
- Italy users rank #1 in time spent on the Sorare platform (1H35 per day), and #2 in terms of the number of users with a 63% month-on-month growth since opening the beta in December 2019
Udine & Paris, April 27th, 2021
​ - Serie A legendary club Udinese joins today Global Fantasy Football game Sorare. It will enable Udinese card collectors and fantasy football gamers to own the game by collecting, trading and playing with digital cards of players from the team, such as Llorente, Rodrigo de Paul, or Roberto Pereyra. Sorare today counts over 130.000 monthly active users worldwide, with $30 million in cards sold across 140 countries.
Sorare CEO Nicolas Julia
comments
: "We're building a gaming experience fueled by passion where fans can connect with football and a global community. On Sorare, they can truly own the game. We're proud to have the legendary club Udinese join Sorare to allow fans globally to connect with their players for the next few years. We've been very impressed by the growth of the Italian community of fans in Sorare. "
Udinese can further expand its international brand by reaching several untapped audiences of fans: gamers globally as well as growing their fan base in Asia and America where Sorare is growing strongly. Sorare is also effectively opening up a new revenue stream for Udinese by creating a new game licensing category: non fungible token licensing.
Julia adds
: "Given the current climate due to the covid-19 pandemic, this provides a new opportunity for football teams to create interest when live games have been significantly impacted. It offers football clubs a way to diversify their revenue streams."
While football collectors have been able to collect and trade player cards for decades, this was limited to the physical world. Sorare is a global fantasy game that brings people together, especially in times of isolation, through their sports fandom. The fantasy managers buy digital cards of players for the same reasons they buy cards offline - status, differentiation, identity, and membership. Cards are about the nostalgic factor. This also offers the most direct way of investing in the upside of a sports player. The Ronaldo Unique card sold for $289.990 in February.
Udinese Aficionados can now own the game and play with their favorite footballers by using their cards in their fantasy team. The score of the card will depend on the performance of the player in real-life, making fantasy a reality.
Sorare cards are backed by blockchain technology to provide transparency and portability into other games. More importantly, the blockchain Ethereum enables the act of collecting in the digital space by creating digital scarcity through "non-fungible tokens" (NFT). It secures the passion of fans and creates a new level of trust and freedom for gamers who can freely trade their assets over the internet.
More than 140 football clubs from Europe, the United States, and Asia have partnered with Sorare. See all licensed clubs on Sorare here
***
Sorare:​ Brian O'Hagan, Head of Growth
brian.ohagan@sorare.com​, ​+33 7 82 53 93 91
Founded in 2018, Sorare was created by football fans for football fans. Through blockchain digital collectibles and its global fantasy football, the company is on a mission to become 'the game within the game'.
Sorare is transforming online sports fandom and giving its community a new way to connect to the clubs and players that they love. The platform had a monthly card sales volume of over €30M in March 2021 across 130 countries. Based in Paris, Sorare is funded by a world-class team including Benchmark, Accel Partners, e.ventures, footballers Gerard Piqué, Antoine Griezmann and André Schürrle.