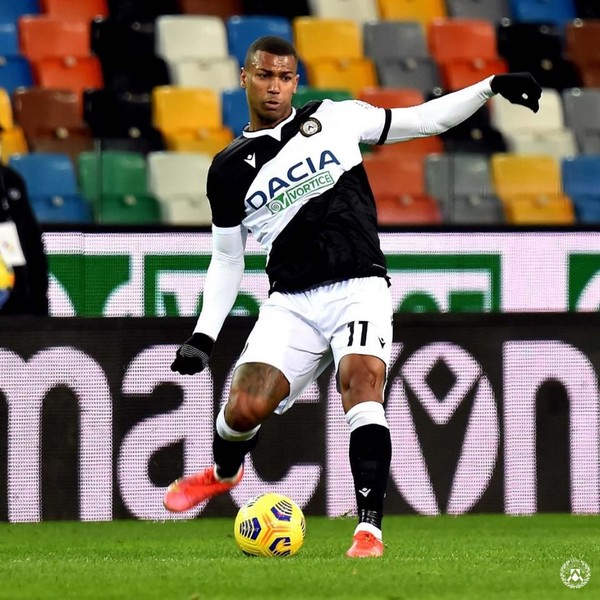 Walace
appeared on
Udinese Tonight
on Monday to talk about the season so far, his life in Udine and his football journey.
First up, though, was a look back at the
defeat to Juventus
on Sunday.
"We struggled to accept the defeat too," he said. "It was a shame to lose the way we did, but now we need to pick ourselves up and focus on our next game. It's always tough against Juventus. Every game is difficult but Juventus are a good team with lots of top players. Our attitude was incredible."
Walace has impressed this season – and the Brazilian revealed he is
growing in confidence
all the time at the club.
"I want to help the team at all times," he said. "I'm getting more confident with the ball at feet and with the long balls with every game, but I prefer a shorting passing game. You can't bring an attitude to the dressing room. I try to be friendly and make sure I have a kind word for everyone. That really helps me."
Walace also spoke about
his childhood
.
"I always loved going to the stadium with my dad – it's why I wanted to become a professional footballer," he said. "The whole family knew that was my dream, so they supported me. I left home at 14 and never went back. My parents always gave me the support I needed to follow this dream. I used to help my mum in her restaurant before I went off to play. She still helps me and gives me advice now. It's sad that we're far apart, but thankfully we can talk on WhatsApp every day.
"I grew up in a favela and that's something that never leaves you. I'll never lose my humility. Some of my friends still live there, and whenever I can I go and see them.
"I became a father at a very young age. One of my children is five and the other is three. I have a closer bond with my older son, whereas my youngest is more attached to his mum. Becoming a father at such a young age made me take more responsibility. It can be scary when you become a dad - you have more to think about. I got tattoos of my kids so they can always be with me."
Walace's
first club in Europe
was HSV – and the Brazilian admitted that the move to Germany was a struggle at first.
"It was hard," he said. "The language is difficult and the first six months really were tough. Thankfully some of my team-mates helped me. After Germany, I came here to Udine. Hannover got relegated and I wanted to play in Serie A. Hannover didn't want to let me go at first, but eventually my agent and Udinese managed to convince them."
"Udine has a similar feel to Brazil. In Germany, everyone just went home after training, but we have a laugh here. I feel at home and my family loves it here. I think I've improved tactically and am playing with more aggression, but I want to keep progressing."