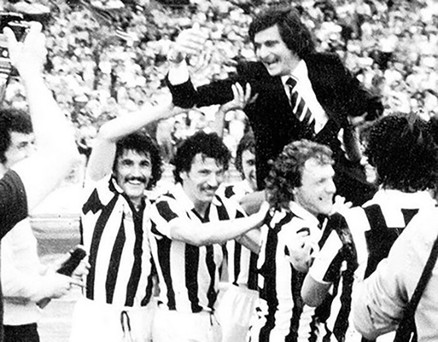 The following year was a turning point: Udinese eventually reached serie B. Bianconeri were even stronger thanks to the new striker Nerio Ulivieri, and thanks to their brilliant coach, Giacomini, back to Udine after a coaching experience in Treviso. These choices proved right and the team was just superior. Giacomini revolutioned the playing techniques according to the Dutch manner: exasperated off-side technique, hard pressing on the adversary and total football were the main ingredients. Udinese thus managed to gain Coppa Italia beating Reggina in the final match.

The masterpiece was complete in the 1978-79 season thanks to the Sanson, Dal Cin and Giacomini trio who led Udinese to fly high. The bianconeri only needed a slight touch up to be even stronger: Luigi del Neri was entrolled into the managing staff.

This was the lineup that year, a team who was able to inflame Friuli Stadium: Della Corna, Bonora, Fanesi, Leonarduzzi, Fellet, Riva, De Bernandi, Del Neri, Bilardi, Vriz, Ulivieri. Coach: Giacomini.